Add a header to begin generating the table of contents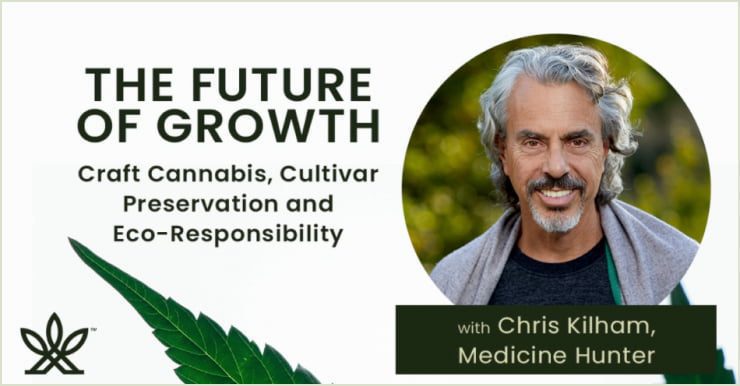 On the June 2021 installment of Agrify's The Future of Growth podcast, Chief Science Officer David Kessler sat down with the "Medicine Hunter" himself, Chris Kilham. Kilham has spent decades traveling the world to research medicinal plants. His life's work is dedicated to exploring sustainable business models that won't harm the independent farmers and communities that harvest and manufacture these products.
Kessler and Kilham sat down to discuss sustainability, the importance of preserving cultivars that have been nurtured worldwide, and how craft cannabis can help support the communities where these unique cultivars originate. You can listen to the full episode on Anchor.fm or Google Podcasts.
The importance of preserving genetics found around the world
After seeing successfully sustainable business models in other agricultural markets, Kilham shared with Kessler that he hopes the cannabis industry adopts similar models. Though state legalization efforts have recently begun highlighting the importance of social equity, Kessler said the industry has room to grow when it comes to social responsibility.
And when it comes to unique genetics, Kilham and Kessler agreed that there is a need to be a responsible cultivator. Kilham recalled incidents where cultivators collected seeds from around the world without giving back to those communities, leaving them without the kind of residual revenue that would have "revolutionized their very existence for generations."
"If you took 100 seeds and you paid $1,000 a seed and you put it into community development, and you had somebody honest and smart administering [the money], [you could] take this village of people and improve their lives with new wells, solar power, and [so much more infrastructure] – things people need," Kilham said, noting that expense would not be noticeable to most companies.
On the podcast, Kilham and Kessler also discussed the importance of preserving landrace strains, particularly in light of the very high demand for hybrid products that can dilute these unique genetics. As cannabis becomes a more palatable industry to the general public, it's likely that original cultivars will lose ground to sought-after hybrids that play a significant part in the marketplace.
Since hybrids come about by selectively breeding certain cultivars to create desired characteristics, the new plant's genetic code will be a mashup of the two parent cultivars. Without properly preserving the original plants, Kessler said he worries that certain landrace strains could be lost in the process.
"We're not trying to preserve those landrace genetics," Kessler said. "We're not supporting the diverse indigenous people around the world that have essentially sheltered and fostered cannabis for millennia, not centuries."
While preservation primarily has an eye on keeping certain cultivars alive for future generations to enjoy, Kilham also brought up that many of these plants are genetic powerhouses. With only the most robust plants surviving over decades, centuries, or even longer, these plants are often "hardier, more disease and drought resistant, [and] more interesting flavor wise," he said, than the mass-produced hybrids bred to stay fresh during transport. Kessler added that the same could be said about cannabis since, in most instances, the cultivars people are experiencing now are "very far removed from the native species and genus of which it originated."
One way to help preserve these heirloom cultivars, both men said, was the potential rise of "artisanal" cannabis and the smaller growers looking to keep things "au naturel."
The potential for craft cannabis
Like craft beer and bespoke furniture, some cannabis connoisseurs prefer a more refined product that separates itself from more corporate and mass-produced cultivars. As a result, the allure of craft cannabis has grown in recent years, with investors showing particular interest in the market.
That level of attention to detail and wanting to provide a more natural product is the result of companies not wanting to be the "PepsiCo of cannabis" but maybe wanting to be the "Aveda of cannabis" instead. If that trend continues, Kilham said that kind of focus on providing an artisanal cannabis product will reflect what happened in the craft beer sector, allowing smaller growers to scale into large but sustainable companies.
"The biggest brands of beer in the United States were basically water with a head on it until Jim Koch came along and started Sam Adams," Kilham said. "It's now the fifth-largest brewer in the United States. He proved that with old strain hops and brewing practices that are more costly and more artisanal, not only could you do something on a smaller scale, but you could do something on a very big scale."
Though he said there will always be "someone that can produce it for less," Kessler warned that if that's your goal, "we will never have that quality." However, just as there are craft beer aficionados, craft cannabis will stand out because "there's always a market for that, and it's a unique differentiator."
Looking forward to the future of the cannabis industry, both men recognized that there will always be a stratification of the consumer base. Some people will want to spend on higher-grade cannabis, while others don't look as carefully into those factors. Yet, the existence of the quality buyer doesn't necessarily mean obtaining higher grade cannabis should be done at the expense of the people that get it from the ground to the shelves, nor should it come at the expense of the natural plant itself.
"There are now tens of millions of us who are in the [craft cannabis] group," Kilham said. "We can carry forth practices and principles that are sustainable and harmonious, and they're also in keeping with the fundamentally friendly fraternal nature of cannabis itself."
Check out past episodes of The Future of Growth
Hear more from cannabis thought leaders on The Future of Growth podcast. You can find more recaps of past episodes on the Agrify blog or subscribe to The Future of Growth on your preferred podcast platform to get updates on all upcoming episodes.
Add a header to begin generating the table of contents