Add a header to begin generating the table of contents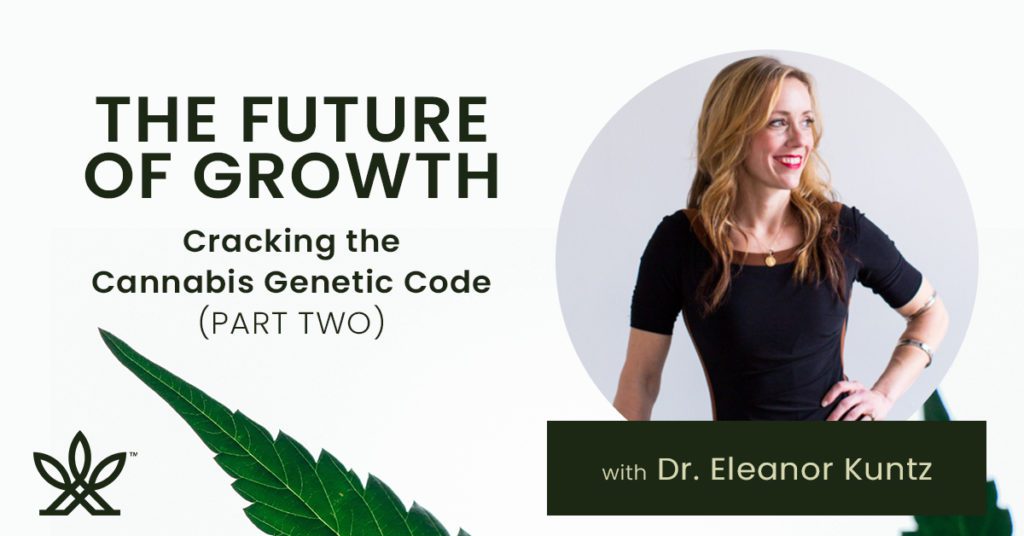 The latest episode of Agrify's The Future of Growth podcast continues the conversation with Dr. Eleanor Kuntz, co-founder and CEO of LeafWorks. The second installment of this two-part series, hosted by Agrify Chief Science Officer David Kessler, explores the value of consistency in cultivation — and whether it's possible in the first place. Listen and enjoy as two scientific minds tackle some of the most significant issues in the cannabis and hemp world.
Is consistent cannabis even possible?
The importance of consistency in cannabis cultivation is a common theme explored in The Future of Growth episodes. In the first part of this two-part series, however, we learned from Kuntz that the chemical makeup of plants is a fickle concept at best, mainly driven by their surroundings and other key factors. This makes cultivation consistency difficult, especially without the right tools to tightly control the grow environment.
"There's kind of a joke… where you have a couple of pounds of cannabis you're selling and someone will ask you, 'What are you selling?' and your response is 'What do you want?'" Kuntz said.
For the longest time, the need for consistency didn't even exist with cannabis because of its underground status. Since ease of acquisition and general effectiveness was more important than the cultivar a customer wanted to try, there was "not as much stringency around the product that you're selling," Kuntz explained.
The breeding and cloning conundrum
Many of the crops enjoyed today differ significantly from how they first appeared in nature. Much of that is due to cloning. While fruits and vegetable varieties, like gala apples, are shaped by cloning, cannabis is renowned for relying on cloning techniques to create genetic duplicates of cultivars.
Since so many plants are clones, it's assumed that they will be precisely the same each time. That's not always the case with cannabis, which is hypersensitive to environmental changes that can cause the clone to deviate from the mother plant. That can make simple terms like "cultivar" even more muddled since the plant's compounds can vary greatly from batch to batch of a cultivar with the same name.
"Because we haven't had the space and the time to do breeding on that large scale, making things uniform is an interplay on the number of generations and the size of the population in each of those generations," Kuntz explained. "If you go to a local garden store and buy seeds, [when] you plant them, you have an expectation that you're going to get the thing on the packet. That is not what happens in cannabis or hemp at all."
Citing a recent scientific paper from the University of Georgia, which found no consistency across cannabis and hemp varietals, Kuntz said that cloning is still a great challenge, despite its industry-wide ubiquity.
Kessler added that a lack of information and a shortage of time has complicated matters.
"One of the biggest projects that I've seen modern hemp breeders working toward at a large scale is what they call 'true breeding seed,' but unfortunately the diversity in the genetic population is really a problem," he said. "And while a lot of people are working on it… there literally hasn't been enough time to do it."
Kuntz added to that sentiment, citing the time and effort necessary to achieve consistency at a large scale.
"It's about having enough time to move populations of plants and do really good selection," she said. "You have to select similar plants. You've got to do the chemistry. You've got to look at plant structures. You've got to sort large populations of plants… It takes space and it takes human power. It takes eyeballs looking at those plants to do that selection. And we're just not there yet."
Explore more The Future of Growth episodes
Subscribe to The Future of Growth on Spotify, Anchor, Google Podcasts, Breaker, Radio Public, and Pocket Casts. Catch up on previous episodes with other cannabis industry movers and shakers by visiting The Future of Growth podcast page.
Add a header to begin generating the table of contents