Add a header to begin generating the table of contents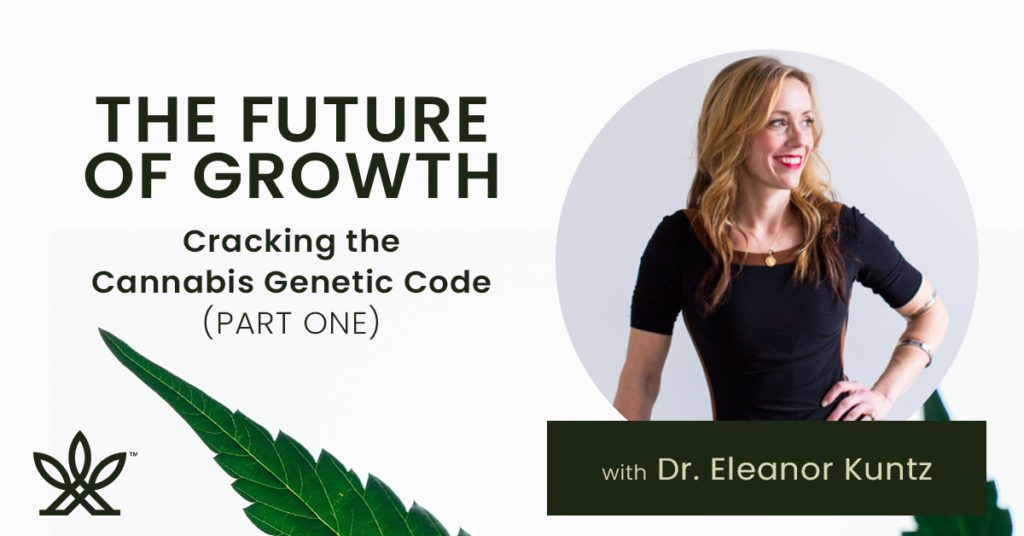 Cracking the Cannabis Genetic Code with Dr. Eleanor Kuntz: Part 1
As a life-long naturalist, geneticist, and entrepreneur, Dr. Eleanor Kuntz, co-founder and CEO of LeafWorks, has devoted her life's work to improving transparency in the global botanical supply chain, including those of cannabis and hemp. She shares her background, knowledge, and insight as a with Chief Science Officer David Kessler on a special two-part episode of The Future of Growth podcast.  
Learning the green words of plants
Spend enough time around a different language, and you'll eventually begin picking up on key phrases. For Kuntz, the same applied to botanical life—to an extent. Inspired by her great uncle, who worked as a forester at the University of Wisconsin, a plant's ability to interact with other living organisms fascinated her since childhood. 
"Plants don't have the same kind of behaviors we think of when we think of animals, but they change their chemical profiles and how they interact with their natural world," Kuntz said. "We know that plants talk to each other; [that] they give each other chemical signals." 
Since a plant's behaviors and surroundings alter its chemical makeup, this sort of information can play a big role in the cannabis industry as new cultivars are developed and landrace cultivars from around the world are observed, preserved, and cultivated in new locales. One reason for that, Kuntz said, is the fact that plants "express themselves in a very specific way" based on where they're located as they grow, since that's an "environmental driver of uniqueness." 
"So in cannabis, we have an amazing organism that really is very receptive to its environment… [that can change] its chemical profile depending on how it's grown," Kuntz said. 
How humans play a role in plant communication
While it may be tempting to think of the interplay between plants and their environment as a completely natural thing, Kuntz believes that humans have a significant influence on the process. That's because, as she said, "we don't exist in a vacuum." 
"Humans are not outside of nature," she shared on the podcast. "In a lot of our daily lives, we perceive the world as we're outside of it, but the more we can understand that all of our actions deeply influenced the world, the better it is." 
One prime example of humanity's influence on plant life is the spread of the dandelion. Originally a European medicinal plant, the dandelion came to the Americas with the first settlers. That propagation across the ocean is largely unknown to most people, but it transformed the continent. 
"We just consider [dandelions] native plants, but they're not," Kuntz said. "They naturalized for so long that we forgot how much influence we've had over our own world. And that interplay is deeply important." 
Searching for chemical consistency
Since a plant's environment and the lifeforms around them affect their chemical makeup, it's naturally difficult to try to strike a balance when seeking chemical consistency. That sort of thing is important for cannabis since it's the chemical compounds that product the desired effects. While cloning plants may seem like the perfect answer to this problem, Kessler shared that it's not necessarily the case. 
"If you look at nature and nurture, nature is the DNA and the nurture is the environment [the plant is] in," Kessler said. "You have levels you can utilize to control the environment to get to a directed end." 
Ultimately, chemical consistency is influenced by too many factors to count, both natural and human alike. 
"If you want to grow a plant for a particular purpose, you can not only choose the correct cultivar or the correct stock that'll give you the best chance of growing those types of plants—whether it be grape or cannabis—but you can also know where's the best place to plant it and how can you augment that environment… to push those plants into their best possible selves," Kuntz said. 
Explore more The Future of Growth episodes
Subscribe to The Future of Growth on Spotify, Anchor, Google Podcasts, Breaker, Radio Public and Pocket Casts. Catch up on previous episodes with other cannabis industry movers and shakers by visiting The Future of Growth podcast page. 
Add a header to begin generating the table of contents