Add a header to begin generating the table of contents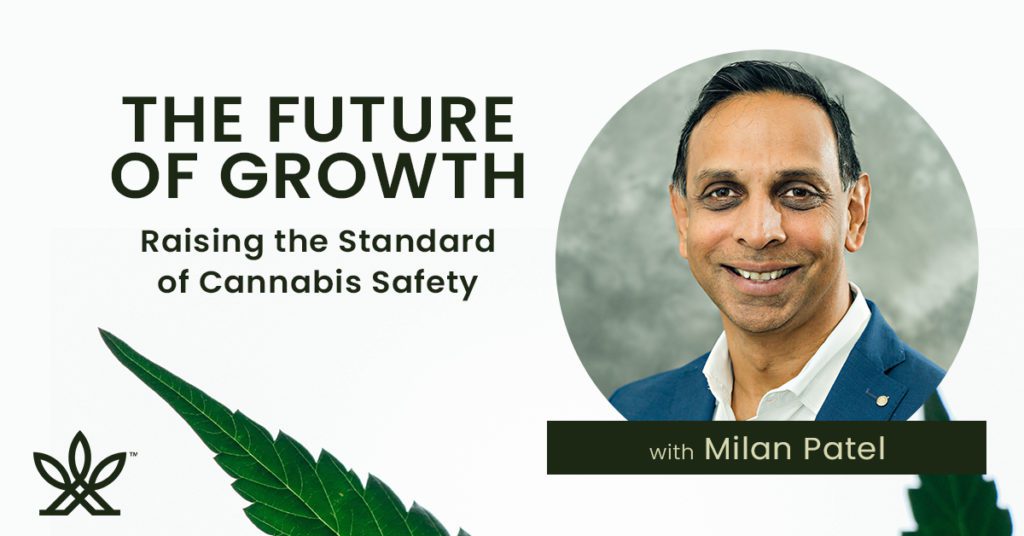 On the latest episode of Agrify's The Future of Growth podcast, Chief Science officer David Kessler interviews Milan Patel, co-founder and CEO of PathogenDx. Known for the utilization of DNA Microarrays in cannabis testing, PathogenDx can screen cannabis for multiple contaminants with one test. Patel founded PathogenDx after a career in genetic markers in transplant organs, applying his knowledge to the cannabis, food, and agriculture spaces to ensure safe products for all.
Saving time and money with multiplexing
On the podcast, Patel explored the science behind multiplexing, the term used to describe running multiple analyses in a single test. DNA Microarrays allow for testing of bacterial, fungal, and viral pathogens in the same reaction, in the same test, at the same time.
"The test significantly reduces the amount of time to results," Patel explained to Kessler. "You're now testing for all of the bacterial and fungal organisms that are critical for safe products."
For cannabis, some of these contaminants include salmonella, pathogenic E. Coli, and pathogenic Aspergillus species.
"That in itself is how the technology has disrupted the way microbial and/or molecularly testing in the cannabis sector is done – at least through our platform," Patel continued. "By amplifying particular samples and providing multiple tests for each target, these tests drive an incredible amount of specificity and provide 10 times better accuracy compared to other DNA methods."
Further, because not all test labs detail test results for individual pathogens, some products may not pass the required inspection because the tests pick up beneficial pathogens that do not pose a threat to human health if inhaled or ingested. Patel said that specificity and the ability to differentiate between harmful and nonharmful pathogens makes all the difference in this manner.
And while some assume DNA Microarrays take longer than a petri dish process or another pathogen test such as qPCR, Patel said it's quite the opposite. This is because the technology behind this test doesn't require samples to be enriched before testing, a time-consuming process.
"Our results are delivered within the same day," Patel said. "The sample comes, and once you begin processing, you'll have results within six to eight hours."
Not only this, but by targeting multiple pathogens at once, Patel added that both laboratory material and labor costs are lowered while efficiency increases.
"Our cost is actually a fraction of the cost of qPCR and similar tests, and even DNA sequencing," expressed Patel.
The importance of environmental monitoring for improved test results
While state-mandated compliance testing typically only covers cannabis products before they head to the market, Patel predicts that medical cannabis will eventually follow under the U.S. Department of Agriculture (USDA)'s food manufacturing model. In this scenario, cultivators would be required to test water quality, soil quality, and other items used in the cannabis cultivation process.
Patel said PathogenDx is preparing for that eventuality with an environmental monitoring device that covers those additional testing points.
"You'll be able to identify the environmental composition of pathogens in your grow, to know how to remediate it or sterilize those locations before it reaches the canopy," Patel said, noting that this can stop many issues before they have a chance to contaminate cannabis flower.
Because even airborne pathogens can spoil an entire batch of cannabis, this helps cultivators know the cause and effect of where pathogens are building up and when they are winding up on the plant. However, cultivators don't have to wait for federal standards to unroll to begin measuring and monitoring the environment in an affordable, quick way.
"What we want to do is provide the world a technology that is simpler, faster, and more cost-effective or affordable, to target these issues," Patel said.
Explore more The Future of Growth episodes
Subscribe to The Future of Growth on your favorite streaming platform on Spotify, Anchor, Google Podcasts, Breaker, Radio Public, and Pocket Casts. Catch up on previous episodes with other industry innovators by visiting The Future of Growth podcast page.
Add a header to begin generating the table of contents