Agrify has partnered with Enozo to provide a sanitizing method for surfaces that converts water into aqueous ozone.
Aqueous ozone (AO) is a product of water and air in the presence of an electrical charge. The electrical charge creates one of the most powerful oxidizers on the plant, revolutionizing how people clean, deodorize, and sanitize surfaces. Enozo's AO is produced in controlled concentrations and contains no harsh chemicals, fragrances, or dyes. Toxicology studies have confirmed there is a minimal exposure risk using EnozoPro as directed. This means fewer hazards for your workers, clients, and facility while protecting your indoor air quality.
Kills 99% of bacteria and germs
Sanitizes in just 30 seconds
EnozoPro is rated for 10 tankful's of water between charges
Up to 5,000 14 oz refills from one bottle
[video_popup url="/wp-content/uploads/2021/09/Statistics-section-video.mp4" img="/wp-content/uploads/2021/07/play-button.svg"]
[video_popup url="/wp-content/uploads/2021/09/Statistics-section-video.mp4" text="Play Video"]
Enozo is a refillable and rechargeable spray bottle. It saves time using just one product instead of switching between multiple products. Enozo helps you live sustainably, as it generates a safe cleaning solution on demand using just tap water. Dispensing at least 10 full gallons of sanitizing per charge, it eliminates the need to buy hundreds of one-time-use bottles of cleaners.
Agrify Solutions
Agrify's Precision Elevated Solution
Toxin-Free Surface Protection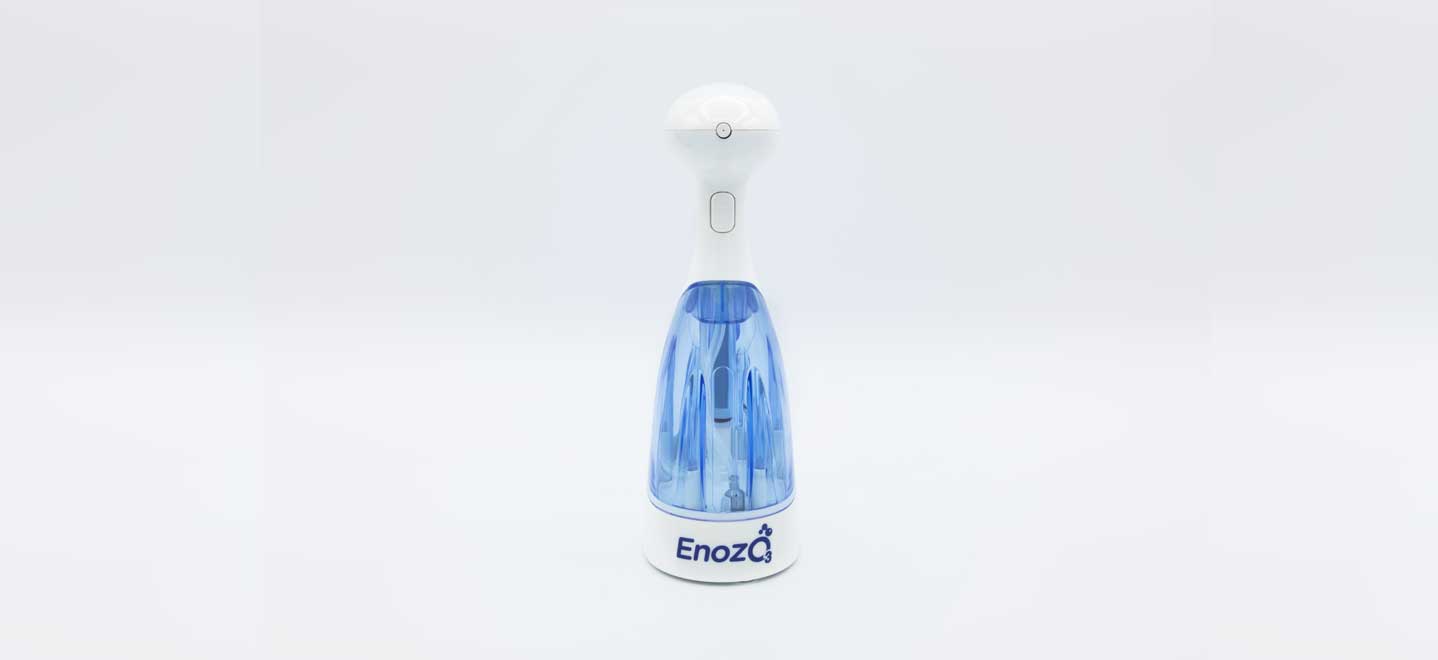 Enozo legally conforms to the FDA food code. So you can rest assured that your workers and crops are safe.
Frequently Asked Questions
Ozone comes in two forms – gaseous (as a gas) and aqueous (in water). This occurs in nature. But can also be synthesized/man-made. Enozo Technologies creates aqueous ozone to clean, sanitize and deodorize. All Enozo products use aqueous ozone.
It causes chemical changes through oxygen. When ozone encounters soils, pathogens and microbes that cause odors or illness, it reacts with them and changes their characteristics. AO adds oxygen to odorants to remove their smell and attacks bacterial cell walls, killing the pathogens completely.
Enozo uses normal tap water. Many ingredients used in typical multi-purpose cleaners are known allergens and can cause irritation the of skin, eyes and respiratory systems or even asthma. Even some cleaning products that are marketed as 'green' or 'natural' may have harmful ingredients in their fragrances and dyes. That's because current regulations do not require manufacturers to list all ingredients on the labels.
There are two LED lights on the head of the bottle. A red "X" will light up when the bottle needs to be charged.
Yes, only normal tap water should be used. You should never add anything to the water in the reservoir. Adding things like essential oils and other chemicals can interfere with the creation of ozone and damage the internal hardware of the bottle.
| Specifications | Value |
| --- | --- |
| Weight | 2lb (0.9kg) |
| Dimensions | 4" x 4" x 10" (10cm x 10cm x 25 cm) |
| Water Reservoir Capacity | 14 oz (400 ml) |
| Water Temperature | 40°F (4°C) -104°F (40°C) |
| Bottle Battery | Lithium Ion 7.4V 1.8 Amp-hr |
| Charger Battery | 100-240 AC 50/60 Hz |
| Warranty | 2- year replacement |
| Certification and Standards | UL/CSA;FCC; ROHS; EPA Establishment (09373-MA-001); Green Seal Certified GS-37,GS-53 |
Ready to take your grow to the next level?
Related Products & Services