Agrify has partnered with Bluezone, an award-winning U.S. military-developed air purification system that destroys airborne pathogens with ultraviolet-enhanced oxidation.
Airborne molds and spores can launch up to 8 feet, traveling at a speed of 80 feet per second, with a high potential for damaging cannabis crops at a rapid pace. Pathogens are challenging to contain unless precautions are taken. Once they've entered a facility, they can wind up in every room. By deploying Bluezone 420 in your grow facility, you can mitigate environmental threats that are detrimental to your cannabis quality and the potential for high profitability.
Case studies prove effectiveness in just 120 minutes
Eliminates unwanted odors and ethylene
Safe for plants and personnel
[video_popup url="/wp-content/uploads/2021/09/Bluezone-by-the-Numbers.mp4" img="/wp-content/uploads/2021/07/play-button.svg"]
[video_popup url="/wp-content/uploads/2021/09/Bluezone-by-the-Numbers.mp4" text="Play Video"]
Filtering the air is not enough - you need to ensure that you eliminate any risk that airborne pathogens pose to your crops.
Bluezone works by circulating air through a reaction chamber that destroys pathogens. Chemical compounds that create odors are oxidized, while mildew spores and botrytis are drawn through a self-contained ultraviolet light which kills them instantly.
Whitepaper
BLUEZONE FOR AIR PURIFICATION: ELIMINATING AIRBORNE THREATS
Air Purification in Grow Facilities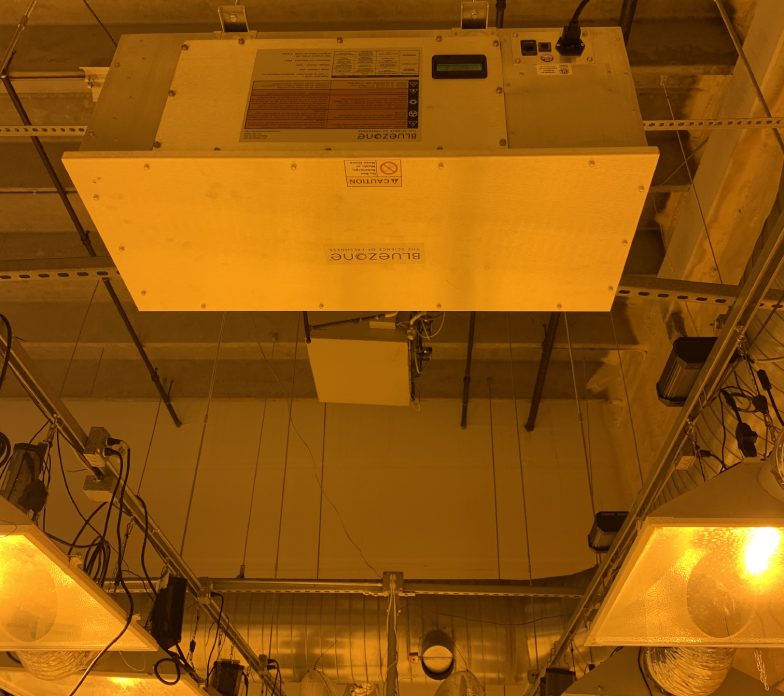 Air purification is crucial for management of harmful airborne pathogens. Pathogens are spread through the air via oscillating fans and worker activity. If your production facility is infected with pathogens, they have the potential to wipe out an entire crop or significantly reduce yield and quality of your plants. To eliminate pathogens, cultivators are using air purification systems.
Nothing Performs like Bluezone
Part of Every Optimized Facility
Bluezone: Fewer Pathogens, Zero Drawbacks
Frequently Asked Questions
For flower, veg, clone, or mother rooms we recommend 1 unit for every 15,000 cubic feet. For trim, dry or grinding rooms we recommend one unit for every 7,500 cubic feet.
Bluezone can be hung from the ceiling, mounted to the wall, or placed on a cart or shelf. Bluezone installation is quick and easy and will not disturb your current operation. For best results, install Bluezone's as close to the source of contamination as possible.
No cleaning is necessary. However, if facility standard requires wipe-down of all surfaces, Bluezone outside surfaces can be wiped with a damp (not wet) cloth.
Bluezone is equipped with an electronic display screen that confirms operation. A green screen confirms the unit is operating without fault.
Yellow or Red screens indicate a fault is detected and a message is displayed. A diagnostics page is included in every manual.
Yes. Bluezone reduced VOCs by >99% in a cannabis grow facility. Bluezone can help dispensaries adhere to zoning regulations and prevent lawsuits / temporary closures by reducing odors. Reducing odors helps ensure neighbors are not impacted by the pungent cannabis smell.
| Specifications | Value |
| --- | --- |
| Size | 31 x 15 x 14 (79cm x 36cm x 34cm) |
| Weight (lb) | 25 |
| Input Voltage | 120 or 240 VAC |
| Power | 3 amps (at 120 Vac) 1.5 amps (at 240 Vac) |
| Operating Environment | 34°F- 104°F or 1°C - 40°C (Up to 90% RH) |
| Storage Environment | -40°F- 150°F or -20°C - 65°C (Up to 90% RH) |
| Treatment Volume (per unit) | 15,000 cubic ft. or 430 m3 |
| Power (W) | 250 |
| Electrical Connection | Direct wiring standard, optional plug |
| Mounting Options | Hung from ceiling, placed on shelf/rack/cart, or mounted to wall |
Ready to take your grow to the next level?
Related Products & Services