Add a header to begin generating the table of contents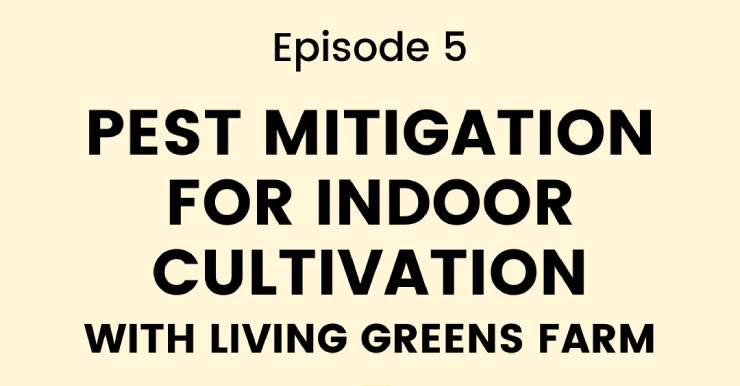 On this episode, Agrify's Matt Liotta and David Kessler are joined by Head Grower, Michelle Keller of Living Greens Farm. Michelle brings 17 years of controlled environment agriculture expertise to Living Greens Farm (LGF). Michelle has a plant biology degree as well as the coursework completed for a master's in plant pathology. Michelle has been integral in the development of the growing platform used currently at LGF.
Michelle, Matt and David focus on pest Mitigation for indoor cultivation. A discussion about pesticide use and methods of pest mitigation for cannabis/hemp and indoor cultivation facilities like Living Greens Farm, an aeroponic, vertical farm that produces lettuces.
Biosecurity Tips from This Episode:
Taking biosecurity measures is an alternative way to protect plants from pests without using pesticide.
The biggest biosecurity threat comes from people bringing in pathogens, so it's imperative to adopt better preventative procedures and hardware (like slap-sinks, open trash cans, etc.).
The best way to deal with pests is to take care of the problem immediately—don't plant problem seedlings and unroot affected plants to prevent contamination.
A good facility design also prevents pests from spreading.
If using pesticides, it's important to use EPA-approved pesticides to ensure the products can be sold to consumers.
Some sanitization measures can be bad for plants. A safer alternative is Enozo.
Things to Know About Pesticides:
Organic and pesticide-free is not the same thing; pesticides can be made organically.
Most pests (insects and pathogens) are microscopic, so it's important to know how to identify the damages caused on the plants instead of looking for actual pests.
Pesticide-free plants often taste better.
Interested in more ways to protect your cultivation facility? See our Environmental Threat Mitigation solutions here.
Have questions? Reach out to our team today.
Add a header to begin generating the table of contents